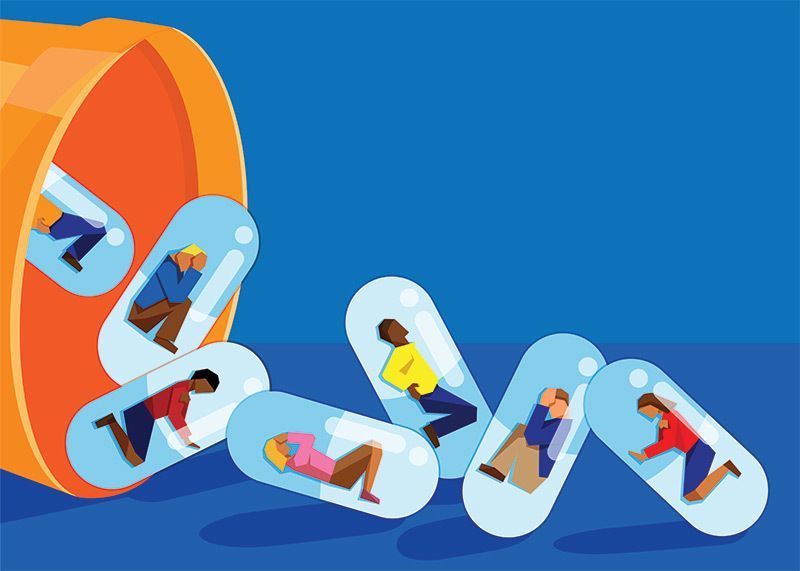 Introduction: 
It is no secret that the COVID-19 pandemic has been devastating on a global stage. Everywhere you look, there is news about the state of the pandemic or messaging telling you to mask up or get vaccinated. Luckily, vaccines have reduced the danger of covid-19 infections as they are highly effective against the virus. Unfortunately, the pandemic is not defeated yet, and as time goes on, people have started to notice how the virus has disproportionately impacted specific populations in the U.S. 
One of these groups is people with substance use disorder (SUD). 
Many people who suffer from poor mental health, abuse, childhood trauma, have a difficult socio-economic situation, or suffer too much stress, in general, are already more likely to develop SUD without good treatment options. What's worse, people with substance use disorder are already the targets of hurtful stigma, which perpetuates negative stereotypes. 
Yet, the pandemic has created new problems for people with SUD that negatively impact their physical and mental health. 
Physical Health Risks of COVID-19 for people with SUD
One way to understand the problem is by looking at how people with substance use disorders are at a greater risk of infection without a vaccine. According to the National Institutes of Health, a study done by Molecular Psychiatry, co-authored by Nora D. Volkow, M.D, found that "...those with a recent SUD diagnosis on record were more likely than those without to develop COVID-19, an effect that was strongest for opioid use disorder, followed by tobacco use disorder." This higher risk of infections involves social, and health factors such as poor access to healthcare in some neighborhoods where SUD treatment is less accessible, and many people with SUDs have compromised immune systems. 
Recent studies have shown that people with substance use disorder are at a higher risk of getting a covid infection even if they are vaccinated. According to another article from the National Institute on Drug Abuse, "An analysis of electronic health records of nearly 580,000 fully vaccinated people in the United States found that the risk of SARS-CoV-2 breakthrough infection among vaccinated patients with substance use disorders was low overall but higher than the risk among vaccinated people without substance use disorders." 
They are also at a higher risk of "...elevated rates of severe outcomes, including hospitalization and death, following breakthrough infections." (People with substance use disorders may be at higher risk for SARS-COV-2 breakthrough infections 2021). This recent data does not mean that the vaccines are no longer effective, and people with SUDs should ignore getting one. Still, the simple fact is that people with a SUD are at a higher risk of getting an infection from the virus, which puts it at an extreme health risk. 
Mental Health Risks: Stress and Isolation
As with the discussion on COVID-19 and its impact, it is not a secret that substance use disorders and mental health issues go hand in hand. Many people with SUD are suffering from what is known as co-occurring disorders. These co-occurring disorders can take the form of anxiety, depression, mood changes, post-traumatic stress disorder (PTSD), and other kinds of mental afflictions. These afflictions can be present before and after the development of SUDs.
Unfortunately, the ongoing pandemic has perpetuated and even increased rates at which people develop SUD due to the mandated isolation, depression, and stress brought by the pandemic. A clear example of this is the increased consumption of alcohol which can cause SUDs to develop. It can also worsen someone's current SUD if they already have a dependency on the substance.
According to The Daily Mining Gazette, back in 2020, "New Hampshire Business Review on April 28 reported that according to a study by New York University's School of Global Public Health, a major side effect of COVID-19 has been increased drinking among people with anxiety and depression, but particularly among those 40 and younger." 
This news has even reached the attention of the World Health Organization, who stated, "...that alcohol use during the pandemic may potentially exacerbate health concerns and risk-taking behaviors" (Jaehnig, 2021)
Alcohol is just one of the many substances which were overused during the pandemic. During the pandemic, the number of people who overused alcohol and other substance rose. Many people turn to these substances to handle their stress and depression, but this raises the chances that their current mental states will worsen due to their newly developed SUD. 
The Bottom Line: What can we be doing?
So what is the point of all these studies and their data? What are we supposed to take away or do about the situation? 
For starters, we should be more vocal about how people with substance use disorder are disproportionately affected by the pandemic. The data shows this to be accurate. An excellent place to start would be on social media, where people are more open and willing to share their perspectives on SUD. Many other groups in the United States have gotten the media's attention to show how the pandemic disproportionately affects them, which could cause the recovery community to rally behind. The more awareness behind the problem, the more people willing to do something about it can see it and take action. Such action could be a public health campaign or call for volunteering. 
One of the most critical things is to encourage people to seek out treatment for their SUD. People with substance use disorder must know their mental and physical risks from the virus. If people are educated about these risks, then it may encourage them to seek out treatment. 
Question for you
So, now that we've said all of that, we want to hear from you. What will you do to educate people about the risks to people with substance use disorder? 
Will you get a group of people involved? Will you seek treatment centers and volunteer? If you have substance use disorder, will you seek treatment now that you know your heightened risks for getting the virus and how the forced isolation of the pandemic can drive you closer to substances? 
Let us know the answer to your questions on Facebook, Instagram, or Messenger. We love to hear the voices of our community, and we hope to hear from you soon.