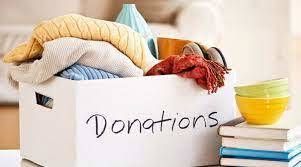 Introduction:
As October fades away and November starts, many of us tend to turn our attention towards Thanksgiving. It is a beautiful time to be thankful for your blessings, privileges, and achievements. We want our patients to be grateful, which is why we are starting a supply drive that we hope to make an annual effort. Hopefully, by the end of this blog, we'll have made you thankful that you donated.
What is the purpose behind a supply drive?
It is no secret that non-profits need supplies for their everyday operation. A non-profit that seeks to help people with their substance use recovery journey is no different. Fellowship House Inc. requires the ability to feed and house our patients. We have to quench their thirsts and warm their beds. We already have an impressive facility with over 100 beds, but if we want to maintain or expand this number, we'll have to gather more supplies like toothpaste, deodorant, toilet paper, and other types of toiletries and hygiene supplies. That is where this supply drive comes in.
What makes supplies drive an excellent choice for a non-profit?
In short, a supply drive allows a non-profit to gain the supplies it needs without sacrificing time and money that could go to sorting out the organization's immediate needs or providing its promised service. Supply drives a good way for people to give to an organization they love, while the organization can build up a stockpile of the supplies they need. This is especially important in disaster relief, such as during storms where access to food and electricity is limited or nonexistent.
A lot of times, these donations come after the fact, but as American Charities points out, "That type of community support plays an integral role in helping non-profits fulfill their mission, but there is another vital component that is often overlooked: existing, sustainable support from donors and community partners." Indeed, donations in the form of supplies don't have to be given during the disaster, and recovery efforts for non-profits are much more manageable if they have those supplies ahead of time.
For example, many organizations like ours probably would have appreciated a better stockpile of toilet paper and other household goods before the COVID-19 pandemic hit. Luckily, we have all made it through that scare, even though the pandemic is still causing supply problems.
Our organization is doing fine, but as mentioned previously, we would like to provide more care to more people, and we'd also like just a little more security. Our home that this supply drive will be a good foundation for an event that can be improved upon for each year.
What will Fellowship House Inc.'s supply drive look like?
We will be hosting our supply drive from Monday, November 1st, until Friday, November 5th. Despite the short time frame, we hope to gain a lot of supplies between the 1st and the 5th, which is entirely doable.
We ask that donors deliver their donations to our physical location at 1625 12th Ave. S, Birmingham, Alabama. Due to safety concerns related to COVID-19, we are putting out a dropbox which is where we would like the supplies to go.
Why should you donate?
As mentioned previously, people in recovery programs and the programs themselves need everyday items that some take for granted. To reiterate, many people in our program and other programs come in with little to nothing. Many are homeless, unfortunately. This is an excellent way to support your community and help us house these people who are struggling.
We hope you will consider donating to our cause, and we appreciate any form of donated supplies. For those of you who do decide to donate, take pride in supporting your community. It is not up to just a few people in the recovery community who run the treatment facilities, but also those who value the hard work of those facilities and what to see them succeed.
Thank you.
Question for the audience: What other ways can one help a non-profit?
We want to hear from you. What do you think is the best way to help non-profits like ours stay afloat. Should the goal be to maintain the organization or go above and beyond to help them thrive?
Reach out to us on Facebook, Instagram, or Messenger with your answers. We love to hear from our community!