Family Counseling in Substance Abuse Treatment (4 NBCC Contact/Clock Hours)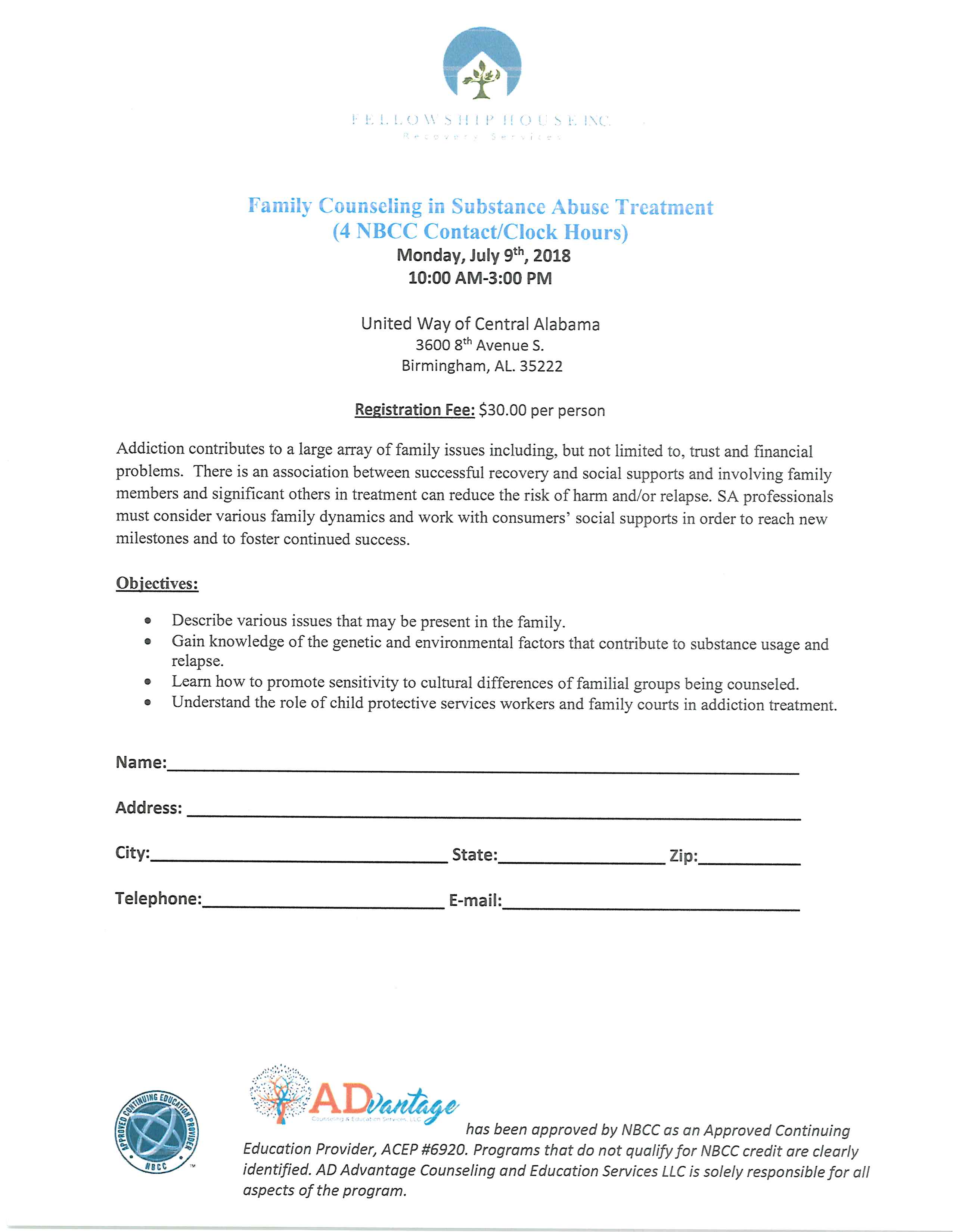 About the Trainer: Asha Dickerson, PhD, LPC, NCC, CPCS
Dr. Asha Dickerson is a Licensed Professional Counselor, educator, consultant, and speaker based in Atlanta, Georgia. Dr. Dickerson is a Past President of the Alabama Association and for Multicultural Counseling and Development and Chair of the NBCC Minority Fellowship Program Doctoral Advisory Council. She currently serves as Southern Region Representative for the Association of Multicultural Counseling and Development and. Dr. Dickerson has worked with individuals and families of all age ranges and her clinical and academic specialties include multicultural issues, addicted families, and blended family issues.
Cancellation: Refunds available up to July 2, 2018 minus $10 administrative fee. No refunds available after July 2, 2018.
Location and Parking: United Way of Central Alabama Boardroom (3600 8th Avenue S., Birmingham, AL. 35222) Free parking available on site.
Registration Options: There are two registration options.
(1) Participants can pay and register online by going to www.fshbhm.org, click on the upcoming events tab and select the july 9th training date.
(2) Participants can complete the attached registration form and mail it with a check or money order to:
Fellowship House, Inc. – Family Counseling
Attn: Ferson Stafford
1625 12th Avenue S.
Birmingham, AL 35205
*Please make checks or money orders out to: Fellowship House, Inc.*
Questions: Contact Ferson Stafford at 706-306-2399 or ferson.stafford@fshbhm.org